WELCOME to the home page of the Church Musicians of the Archdiocesan District!
This is the home page of the Federation of Greek Orthodox Church Musicians of the Direct Archdiocesan District. The Federation is comprised of senior and youth choir members and directors, organists and all who chant within the Archdiocesan District.
The purpose of our Federation is to bring together all the church musicians of the Federation in order to encourage communication and fellowship among its members, to promote and encourage the study, development, publication and performance of Greek Orthodox sacred music, to foster a high standard of singing and choral music among the choirs in the Federation, to provide lectures, workshops and conferences of Greek Orthodox church music and any other aspect of music needed to improve the musical education of the Federation members, to promote the development of choir directors, organists, singers and chanters, and to provide spiritual uplifting for the faithful during the Divine Liturgy and any other Greek Orthodox service in which we may serve.
'Lord, bless our music that it may glorify Your Name.
May using it to serve You always be our aim.'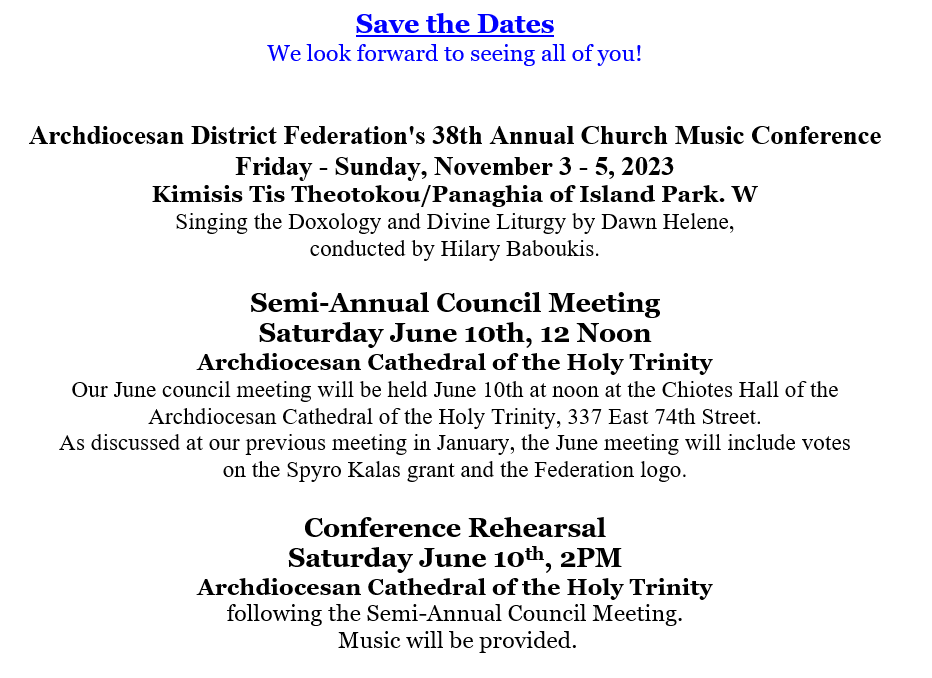 ---
Latest News