WELCOME to the home page of the Church Musicians of the Direct Archdiocesan District!
This is the home page of the Federation of Greek Orthodox Church Musicians of the Direct Archdiocesan District. The Federation is comprised of senior and youth choir members and directors, organists and all who chant within the Archdiocesan District.
The purpose of our Federation is to bring together all the church musicians of the Federation in order to encourage communication and fellowship among its members, to promote and encourage the study, development, publication and performance of Greek Orthodox sacred music, to foster a high standard of singing and choral music among the choirs in the Federation, to provide lectures, workshops and conferences of Greek Orthodox church music and any other aspect of music needed to improve the musical education of the Federation members, to promote the development of choir directors, organists, singers and chanters, and to provide spiritual uplifting for the faithful during the Divine Liturgy and any other Greek Orthodox service in which we may serve.
'Lord, bless our music that it may glorify Your Name.
May using it to serve You always be our aim.'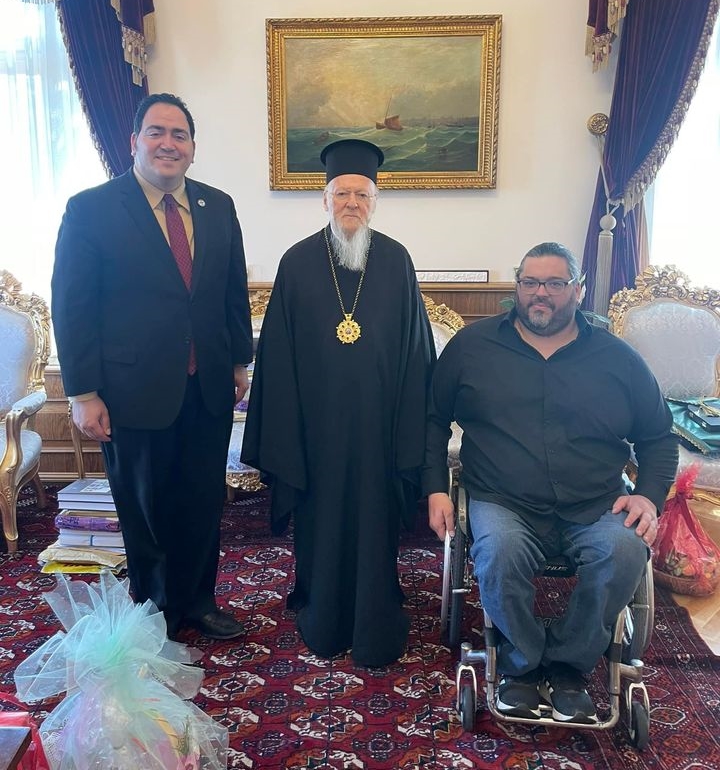 Maestro Costas Tsourakis received an audience with His All Holiness Ecumenical Patriarch Bartholomew*
Joined by the noted composer Savvas Karantzias from Rhodes, Archdiocesan Cathedral Choir Director Costas Tsourakis received a private audience with His All Holiness Ecumenical Patriarch Bartholomew at the Phanar. Following a discussion about the Orthodox faith, ecclesiastical music and culture, His All Holiness offered support for Maestro Tsourakis and Mr. Karantzias' proposals to promote Greek culture through our American and Greek contingencies and was pleased at the plans for international collaboration that were presented.
---
Latest News
Date Published: Sunday, June 26, 2022
On Saturday June 25, 2022 we had our June council meeting, followed by rehearsal for the historic centennial Divine Liturgy on Sunday July 3rd.
Date Published: Tuesday, May 17, 2022
Sunday July 3rd, the Divine Liturgy will be held at the Archdiocesan Cathedral of the Holy Trinity. On Wednesday July 6th, we will be participating in "The Centennial Concert: from Byzantium to America", which we will perform in conjunction with the Archdiocesan School of Byzantine Music and along with members from throughout the National Forum. Be sure to watch your emails for important dates and updates!
Date Published: Sunday, March 06, 2022
Music Symposium-Saturday, March 19, 2022, 2:30 - 4:30 pm at Holy Trinity Cathedral, 319 East 74th Street, New York, NY 10021
Music and Refreshments will be provided